We at SignatureFD are excited about the summits we have planned to explore the issues affecting our world and how our generosity can have a profound effect—transforming our lives and the lives of others. Our new video from SignatureGENEROSITY's first-ever summit explores this idea of transformational generosity. We invite you to view it and to share it with your family and friends.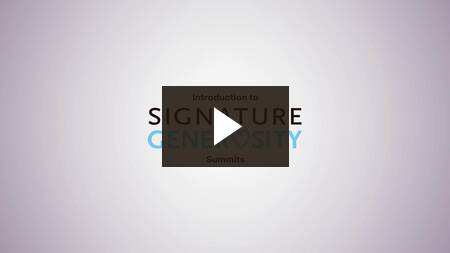 The goal for our SignatureGENEROSITY summits is to provide opportunities for clients and friends to come together and learn about the issues that interest them. The format for each summit is a panel discussion with leaders who have a great deal of experience and perspective on the issue being discussed.
Our next summit will be held Wednesday, June 24. The topic will be "Revealing the Truth About Human Trafficking in Atlanta." We are pleased to have the Attorney General for Georgia, Sam Olens, on the panel. Please mark your calendar for this special lunch event and look for an invitation within the next couple of weeks.
The following summit in our series will be held in September on the topic of "Urban Renewal." We hope that you will join us for these panel discussions and be encouraged to explore how you can experience transformational generosity.